The Case for Honesty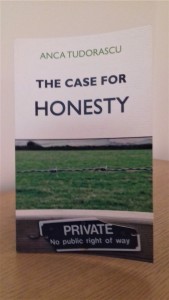 Price: 15 EUR  (+ shipping cost)
Preview
The newest semi-autobiographical collection of essays by Anca Tudorascu explores, with startling honesty, some of the things that are hidden, forgotten, or ignored in our lives, both at individual and at social level. The author delves into those subjects that are hushed in polite conversation. The mood of the book can go from dark and harsh, to almost ethereal in just a few lines. The author's voice is honest throughout. Tudorascu shares with the reader ideas and experiences concerning rural life in communist Roumania in the 80s, money management in the modern times, family dynamics, employment, simple living, animals and nature, critical thinking, to name just a few topics. The author hopes that some of the ideas contained in these pages will stay with the reader longer than the time taken to read them. She believes that, while introspection has not killed anyone, a grain of it would surely prevent many instances of cruelty in our dealings with one another. This book is intended as the beginning of a deeper conversation.
Reviews:
"This piece is a delightful collection of essays and thoughts that are easy to relate to and a compelling insight into the complexities of everyday life." 
"This book contains thought-provoking points of view. Among other highlights, I appreciated the writer's honesty and the original insight into the traditional Romanian rural life. I'm looking forward to reading future books written by this author." 
"This book spoke to me. It reminded me of my own childhood. I found a bit of myself in your book."
If you wish to purchase this book, please contact the author directly or buy it here.
If you wish to purchase books directly from the author, please fill in the form bellow. Based on this form, you will receive an email with purchase and bank details for your payment. Thank you for your interest.